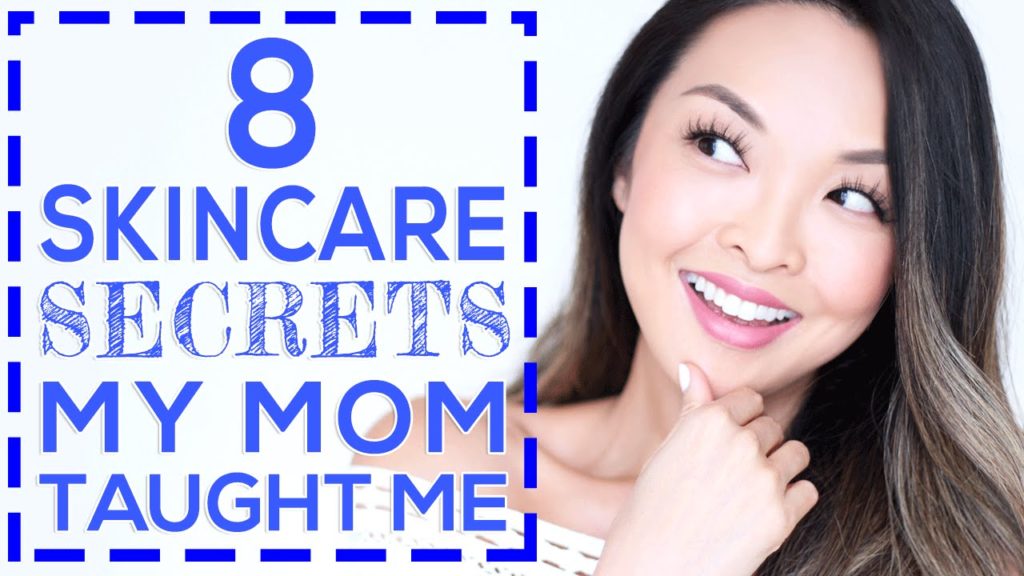 Skincare is a staple in every beauty regimen, but you can%u2019t just cover your face with makeup and you can%u2019t just slather your face with foundation, contouring products and get great results without taking the first step – SKINCARE.
Here, Beauty Vlogger has shared 8 secrets her mom has taught her to have beautiful skin – and this just proves that even us moms, can achieve this. Let%u2019s get on with these tips.
Tip #1: Drink Warm Water
Drink warm water when you wake up in the morning. It%u2019s good for the body and it helps with digestion. You can also add some flavor to your water by adding a zest of lemon.
Plus, staying hydrated keeps your skin glowing and moisturized.
Tip #2: Steam Face

Do this once a week – team your face for at least 2 minutes. For sure, every momma has 2 minutes at least once every 7 days to do this. You can also add your favorite essential oil. Suggestions are: Lavender oil, Frankincense, Tea Tree, or Elemi essential oil. They%u2019re all amazing for the skin. If you have clogged nose, you can also take advantage of this to add Peppermint or Eucalyptus essential oils to help you ease up your breathing.
If you want to learn more about essential oils, the best way to get started is by going with Young Living%u2019s Premium Starter Kit. It has the essentials you need to get started with your oiling journey. You can get the kit here.
Not only you%u2019ll get these 11 oils and a diffuser, but you%u2019ll also be a part of our exclusive group where we share recipes, tips, and more oily stuff and education. If you%u2019re still not sure, go ahead and send me a message and would be glad to connect with you and answer your questions!
Tip #3: Use a Face Brush
Wash your face before going to bed, and use a face brush – ALWAYS! Hands are okay, but a face brush can help you with deep cleansing. Do small circular motions with your brush, and rinse with warm water.
Tip #4: Use Rice Water to Rinse Your Face
Us Asians cook rice every single day. So moms, next time that you%u2019re cooking rice, save that last water you%u2019re using to rinse your water with and use it to rinse your face. Rice water has been used to make hair grow stronger and make skin look more youthful!
Tip #5: Apply Rice Mask
Using rice water to rinse your face with is great, but it works better if you apply rice mask afterwards. Look for rice masks or feel free to make one yourself. Use a brush applicator to apply the mask on your face. This helps you brighten your skin.
Let the mask sit for 10 minutes, then grab a warm towel and place it over your face for that added steam. Use the same towel to remove the mask.
Do this before going to bed, or while you%u2019re washing the dishes, let the mask sit there for 10 minutes and get it off once you%u2019re done with your dishes. Who says that you can%u2019t incorporate some beauty routines here and there if you%u2019re a mom?
Tip #6: Use a Toner
Use a toner to soften your skin and make it look brighter, and well, toned. I know some of us would complain that we only have at least 5 minutes to take a shower if we%u2019re lucky, but once you%u2019ve learned to incorporate this to your daily routine, you%u2019ll notice that it%u2019s not as hard and as time-consuming as it may appear to be!
Tip #7: Use a Sunscreen
This is probably one of the most important tips in this segment. Sun damage is one of the worst things that you can do to your face. Even if you%u2019re not going out in the sun, always wear sunscreen, do not skip this part. I cannot elaborate on how important this is. And this goes to your kids as well. While they%u2019re still young, try and use a kid-safe sunscreen for your kids, especially when going out. Not just when they%u2019re going for a swim or onto an outdoor playground. Remember, even when there%u2019s no sun, always use sunscreen. Your skin will thank you.
Tip #8: Relax Your Face
Do not frown – it causes wrinkles! 🙂
While these skin care tips may seem basic, they%u2019ve been proven to keep one%u2019s skin radiant and glowing. And they%u2019re pretty basic, right? Whether you%u2019re a working mom or a stay at home mom, it only takes a couple of minutes of your time to get these things done.
If you have other skincare tips you%u2019d like to add, please, let us know in the comments below! <3